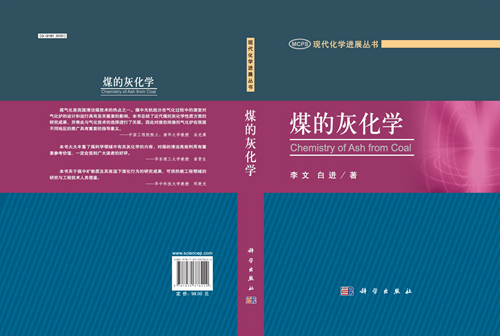 Recently, the book entitled Chemistry of Ash from Coal was officially published by Science Press, China. It was written by Prof. LI Wen and Dr. BAI Jin from Institute of Coal Chemistry, Chinese Academy of Sciences (ICC, CAS).
The behavior of mineral matters in coal has significant and complex influence on the utilization and conversion process of coal, especially the combustion and gasification. To the best of our knowledge, most researches for mineral matters in coal focus on its behavior in the low temperature zone (below ash fusion temperature). However, no systematic studies have been conducted or reported on the flow and rheological property of mineral matters at higher temperatures due to the complicated reaction systems and technical difficulties in operation, characterization as well as qualitative/quantitative analysis.
Nowadays, gasification has become the predominant technology of clean conversion and high-efficiency utilization of coal. Large-scale gasification technology is developing towards operating at high temperatures and under high pressures. Under these conditions, the reactivity difference of organic matters between different coals is less important, and the behavior of mineral matters has become the key of smooth and successful operation of gasifier. For various gasification technologies and their disparate feeds, the characteristics of ash and slag varies to a great extent, thus flux or coal-blending are needed to modify the ash properties and keep stable run of gasifiers. However, due to the lack of knowledge and understanding about the ash chemistry, modification of ash properties is commonly conducted according to experience and tentative experiments, which are unreliable and time-consuming in practice. Thus, the operations of gasifiers are often interrupted and cannot be continuously run for a long time.
Based on the above background, Prof. Li and his team conducted systematic studies on the chemistry of ash from coal. The publication of this book was sponsored by Foundation of Science Press and summarizes their research findings in the relevant field during the past decades. On the basis of thermodynamics analysis and latest research results at home and abroad, this book discusses the characterization of minerals and its evolution at high temperatures, the interactions between minerals and organic matters, ash fusibility and rheological property, the influence of external additive as well as coal blending on behavior of minerals. Furthermore, it correlates the selection of gasification technology with the property of ash from coal.
Pro. XIE Kechang, vice-president and member of Chinese Academy of Engineering, gave his great appreciation on this book by commenting in the preface: this book not only enriches the theory of coal science, but is also helpful in designing and operating of gasifiers, as well as providing instructive alternatives to improve properties of coals for gasification. He believed that it has high academic and practical values, thus could be a good reference for education, research and industrial application.
Prof. YUE Guangxi, member of Chinese Academy of Engineering, reviewed that the book summarized the research finding of coal ash in recent years, and correlated it with the selection of gasification technology, which is of great significance to the application of slagging gasifier in China.
The publication of this book shows that ICC has achieved outstanding results in the fundamental research of coal gasification in domestic. It also constructs solid foundation for the discipline development in the chemistry of ash from coal.