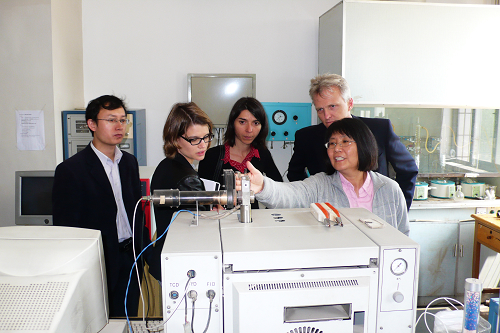 Mr. Frederic Febvre, research director of coal conversion, Dr. Sandrine Vidao-Gilbert, head of underground coal gasification, Ms. Cristine Ferreira, process monitor and Dr. Zhonghua Xu, chief scientific representive of Total in China visited ICC on May 6, 2010.

During their stay in ICC, Total guests made an on-the-spot investigation of the State Key Laboratory of Coal Conversion (SKLCC) and had a meeting with ICC's researchers and graduate students. 5 doctoral candidates of ICC presented specialized reports on relative research projects. Total guests got a better understanding of SKLCC's latest developments and progress in CO2 capture, its underground storage, mineralization and comprehensive utilization, deeply impressed with SKLCC's effort of transforming basic research achievements into commercial technologies.
Mr. Frederic Febvre and Dr. Zhonghua Xu introduced Total's profile, vision and cooperation status with China, expressing willingness to cooperate with ICC. Through discussion, the two sides got a common view that Total delegation's visit had made a good start for further cooperation. ICC and Total have shared research interests and will set up collaboration links via various measures, such as jointly applying for and undertaking research projects, personnel exchange, etc.