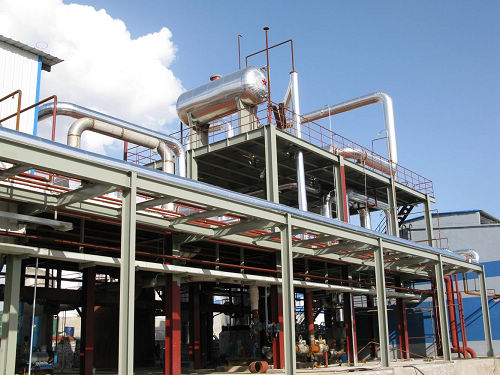 Employing the patent technology of "low-pressure hydrogenation of maleic anhydride production of γ-butyrolactone" developed by Institute of Coal Chemistry (ICC),Chinese Academy of Sciences, Inner Mongolia Uxen Banner Novel Chemical Co., Ltd. conducted successful commissioning test run of the catalytic reaction and distillation of the γ-butyrolactone in 4000 t/y scale recently. Full capacity production has been achieved and the output products reached high quality. It marks the sets of equipment meet the design requirements and operation in full production scale.
  γ-butyrolactone is an important organic chemical product and pharmaceutical intermediate. It can used as raw materials to produce α-pyrrolidone, N-methyl pyrrolidone, pyrrolidone-based polyethylene, widely used in industrial applications as detergents, dispersants, fuel and lubricants antifreeze agent, also for producing pesticides, pharmaceutical intermediates, and solvents, such as electrolyte solution as well.
  There are two main synthesis routes of γ-butyrolactone. One is dehydrogenation of 1,4-butanediol and the other is hydrogenation of maleic anhydride. Dehydrogenation of 1,4–butanediol is the traditional production method and hydrogenation of maleic anhydride seems as the most promising new synthetic route. Compared with the traditional process, the new technology can reduce consuming raw materials about 600kg, and can achieve the net profit of about RMB 6,000/t γ-butyrolactone.
  The patent technology named "Low-pressure hydrogenation of maleic anhydride production of γ-butyrolactone" is the further development of "Research and application of processes coupling of γ-butyrolactone and 2 - methyl-furan", which was developed by ICC and won the second prize of China National Technological Invention Award in 2005. This technology is also a result of cooperation between Chinese academy of Sciences and local government.
  Uxen Banner novel Chemical Co., Ltd. is a professional company engaged in γ-butyrolactone and tetrahydrofuran production of fine chemicals. In this company, a production plant of γ-butyrolactone in 1000 t/y has built in 2004 with the entire sets of technologies provided by ICC, which brings annual production value of about RMB 18 million. The newly building plant for production of γ-butyrolactone in 4000 t/y forms total capacity of 5000 t/y, will become the largest production scale in China and bring production value of RMB 90 million per year and profit of RMB 30 million per year.