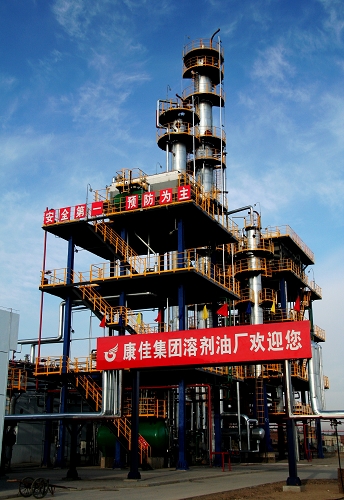 Test run of Konka Karamay Investment Co., Ltd 's 30,000 t/a vegetable oil solvent extraction plant was successfully conducted on August 8, with qualified extracted solvent, hexane, isohexane and other products being produced. After 2 months of stable operation, it fully meets the contract requirements. This is another technology applied in industry developed by ICC.
The removal of impurities from hydrogenation catalyst is strictly required when using raffinate hydrogenation technology to produce extracted solvent, hexane, isohexane and other products. Under a mild reaction condition at 150℃, 1.0Mpa, the highly-active nickel catalyst developed by Group 508 of ICC features low hydrogenation product bromine index(<10), low aromatic hydrocarbon content(<10ppm) and low sulfur content (<0.03ppm),which is 1 to 2 orders of magnitude lower than the national standard.

Seeing the product, TianYu, general manager of the company happily said: "Our company has produced the best domestic vegitable oil extracted solvent, thanks to such a good technology applied in Xinjiang. I am looking forward to further cooperation with ICC."